Agrario De Mercato La Biosfera
Great atmosphere and sales at the Mercado Agrario De La Biosfera, where every Saturday they offer you the best products of our land.Inside the Agrarian Market you can find all the products, grown directly on the island, sold directly by the producer and consumer. A unique opportunity to visit to find the local delicacies of Fuerteventura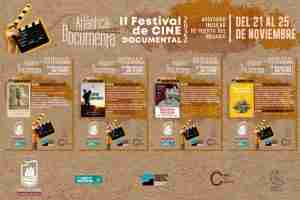 FESTIVAL DI CINE DOCUMENTAL 21/25 NOVEMBER 2022
The second edition of the Documentary Film Festival 'Atlántica Documenta', promoted and promoted by the Department of Culture of the City Council of Puerto del Rosario, directed by Juan Manuel Verdugo, is coming to Puerto del Rosario.
The festival will kick off with the screening of its first feature film next Monday, 21 November, in the island's Auditorium. The four selected multicultural documentaries will be screened until Thursday, the 24th, at 20.00 hours: 'El Siglo de Galdós', 'Entre Montañas', 'Nuestras Derrotas', and 'Bienvenidos a España' (Welcome to Spain).
The Mayor of Puerto del Rosario, Juan Jiménez, and the Councillor for Culture, Juan Manuel Verdugo, together with the representative of the organising company, Alejandro De La Cova, have explained this Friday all the details about the second edition of this Documentary Film Festival which is being held in the municipality for the second consecutive year in collaboration with the Cabildo of Fuerteventura.
The Mayor of Puerto del Rosario, Juan Jiménez, encouraged the citizens to participate and enjoy this event that we are strengthening from the Town Hall "to continue enriching the cultural agenda of the municipality, in this case, through this film-documentary offer that are the gateway to culture and knowledge and where, in addition, the great work of producers, filmmakers and professionals of the international audiovisual industry is recognized".
For his part, in the words of Juan Manuel Verdugo, the Councillor for Culture who has promoted this project, "with this second edition, we are committed to continuing to promote this type of documentary genre with the screening of four feature-length films of extraordinary quality, which deal with a wide range of subjects, In short, the councillor for Culture emphasised that "we continue to insist on consolidating this cultural aspect in the municipality through different alternatives, from literature, cinema and music, among others. This Festival also serves to strengthen the platform of the audiovisual sector and the film industry in Fuerteventura".
The audience will be able to establish a dialogue with the directors of the films 'El Siglo de Galdós', by the director Miguel Ángel Calvo, as well as with the director of 'Entre Montañas', Unai Canela, and with Juan Antonio Moreno, director of 'Bienvenidos a España'.
To round off this second edition of the Documentary Film Festival held in the capital's municipality under an initiative promoted by the Town Council's Department of Culture, the finalist short films on 'General History' and the finalist short films on 'Canarian History' will be screened on Friday, 25th November at 18.00 hours at 20.00 hours. Afterwards, the 'Atlántica Documenta' awards ceremony will be held, selected by the jury, made up of prestigious audiovisual industry professionals from different fields such as Sonia Hakansson Rivero, Paula Palacios, José Corral Llorente, Jaime Santos and Iván Umpiérrez Cañada.